Mr. Devendra Mehta
Chairman, Non-Executive & Independent Director
Mr. D R Mehta, 75, B.A., LL.B and Management Graduate of Royal Institute of Public Administration, London and Alfred Sloan & School of Management MIT-Boston, USA, joined the Indian Administrative Service in 1961. He has rich experience of more than 40 years, during which, he held various important positions in Government of Rajasthan & Government of India and also in Regulatory Bodies.

His last six assignments were:
Secretary State Enterprises, Govt. of Rajasthan
Secretary Committee on Financial Reforms – Cabinet Secretariat, Govt. of India.
Additional Secretary, Govt. of India, Ministry of Finance
Director General of Foreign Trade, Govt. of India, the Ministry of Commerce.
Deputy Governor Reserve Bank of India (RBI) and lastly he retires as Chairman of Securities & Exchange Board of India (SEBI)
Mr. D. R. Mehta has been appointed as Non-Executive and Independent Director as well as Chairman of the Company w.e.f. December 11, 2008
Mr. Kamal Jain
Non-Executive Director
Mr. Kamal Jain, 55 is a Chartered Accountant having rich experience of 27 years in the field of finance, taxation, corporate affairs and human resource developments. He has been appointed on the Board of the Company effective from February 5, 2005 as Non-Executive Director.
Mr. Manish Mohnot
Non-Executive Director

Mr. Manish Mohnot, aged 43 years, is a non-executive Director of our Company. Mr. Mohnot is a chartered accountant, and a certified SAP R/3 application consultant (accounting and controlling). He has completed an advanced management program from the Harvard Business School. He has about 20 years of experience in the finance and management consultancy. Currently, he is the managing director of KPTL. Previously, Mr. Mohnot was associated with KPMG. He has also been associated with Standard Chartered Bank.
Ms. Anjali Seth
Non-Executive Director

Ms. Anjali Seth holds bachelor degree in Law and advising and consulting to banks, financial institutions and corporates as a legal consultant. She has a rich and diverse experience of over 25 years including as a professional lawyer. Ms. Anjali has advised and consulted with top banks, financial institutions, and corporates, on a range of matters including M&A, PE Investments, industrial and employees relations, corporate governance, real estate negotiation, legal matters, statutory issues, litigations etc. Ms. Anjali associated in various positions includes International Finance Corporation, Swaadhar Finserve and ANZ Grindlays Bank. She had the opportunity to work in UAE with real-estate company, Emmar Properties. Ms. Seth served with Standard Chartered Bank as their Legal Head in India.
Mr. Shailendra Kumar Tripathi
Dy. Managing Director & CEO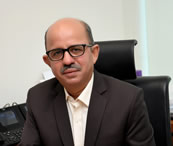 Mr. Shailendra Kumar Tripathi, 48, is a Civil Engineer from Government Engineering College, Jabalpur, Madhya Pradesh. Since passing out in 1984, he has worked in major Infrastructure companies like Gammon India, Larsen & Toubro Limited and Oriental Structural Engineers Private Limited. He started off as a site execution and planning engineer and went on to head the implementation and construction of many infrastructure projects in the country involving highways and airports. His technical, strategic decisions and leadership skills coupled with his sound financial and business sense has helped him in securing and successfully implementing many projects in Public Private Partnership model.
He Joined JMC Projects (India) Ltd in 2008 as the President & COO of the Infrastructure Division. He has been responsible for the overall performance and growth of the Infrastructure Division.
Mr. S. K. Tripathi has been appointed as Executive Director on the Board of JMC Projects (India) Ltd. w.e.f. October 22, 2011. He has been appointed as Deputy Managing Director w.e.f. May 18, 2012.
He is responsible for the Infrastructure, Power, Building & Factories and BOT Business Divisions of the organization along with their growth and diversification plan. Mr. Tripathi has also been appointed as CEO of the Company w.e.f. April 1, 2013.